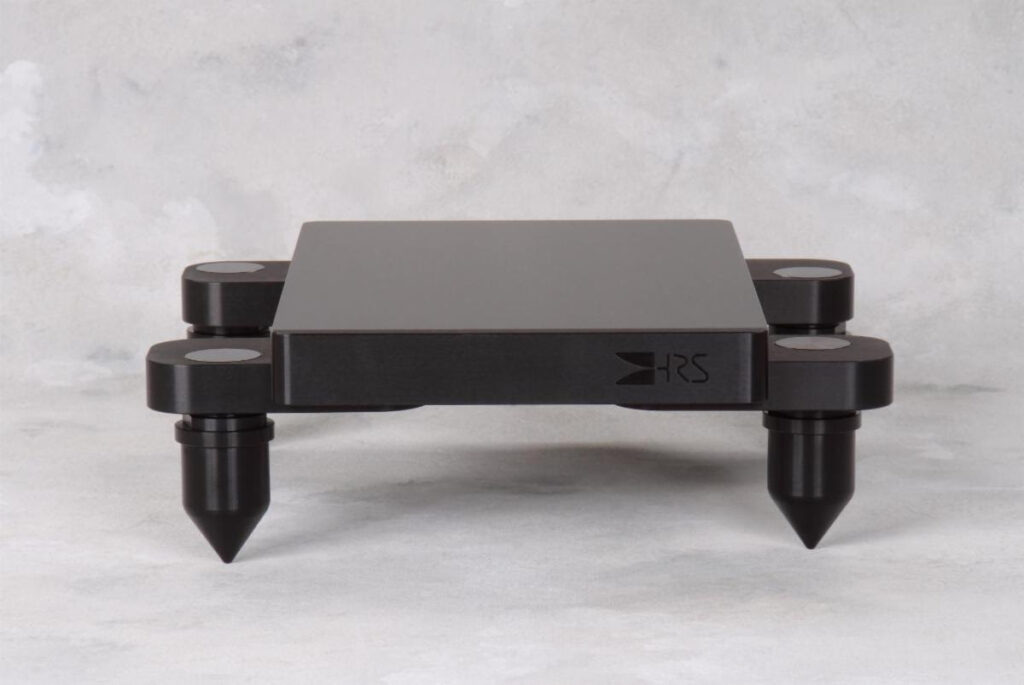 Placing headphone amplifiers, small format digital sources, power supplies, etc., on the HRS EXRH lowers the noise floor and brings the magic of your favorite musical performance through your headphone system.
The EXRH can be customized (width and depth) for any size component. It can be designed in infinite configurations for your existing system and can be reconfigured anytime your system expands or changes.
Configurations include but are not limited to 1 shelf (1V), 2 shelves (2V), 3 shelves (3V), or 4 shelves (4V).
Key Features of the HRS EXRH Headphone Stand System
Billet-machined aluminum front trim
Proprietary HRS-constrained layer-dampening system
Its asymmetrical 4-leg vertical support system increases frame stiffness and performance; compared to traditional 3 or 4-leg designs
Very thick custom-pressed resin fabric composite top and bottom plates
Component spacing can also be changed in the future to fit different component heights should your system needs change.
A low profile (1.5" height) design also minimizes space requirements
Scratch-resistant coating on top surface of the non-resonant high-density plinth
EXRH Plinth is 9.5″ wide by 15″ deep
Available in black or silver finish.
On the silver EXRH, the sides and the back of the plinth are black finish.
Standard component spacing for this system is 6″, 8″, 10″, or 12″.
Standard plinth dimensions are 9.5″ wide x 15″ deep; custom depths and widths are available.
All HRS products go through a rigorous development protocol, extensive listening tests, and 100% inspection of critical fit and performance features to verify all HRS products are manufactured to our exacting standards. All of this combined with precision design and exceptional performance results in a product that is a pleasure to install, use, change, or expand at any time.
Harmonic Resolution Systems (HRS) passion for enjoying the full magic of a musical performance has driven us to develop a wide range of products that will allow your system to reach its full potential.
Place orders for the new EXR Headphone Audio Stand System today! Contact us for more infroam